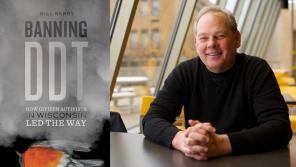 Wisconsin writer Bill Berry manages to turn one of the state's most historic—and perhaps longest—environmental battles into what sometimes feels like a fast-paced thriller.
Wisconsin leaders are developing breakthroughs and forging creative and practical solutions that will make our climate, water and energy future brighter and cleaner.
International Crane Foundation director and Academy Fellow George Archibald shares the stories of two populations of endangered Siberian Cranes, the white Asian cousin to our Whooping Cranes that were extirpated in Wisconsin by uncontrolled hunting.
Wisconsin Academy Offices 
1922 University Avenue
Madison, Wisconsin 53726
Phone: 608.733.6633
CLOSED DUE TO COVID-19
James Watrous Gallery of the Wisconsin Academy of Sciences, Arts & Letters
3rd Floor, Overture Center for the Arts
201 State Street
Madison, WI 53703
Phone: 608.733.6633 x25