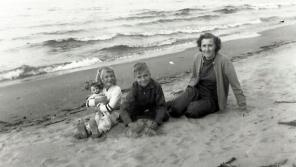 There is no Plan B for humanity and our fellow species if we fail to keep our waters alive and clean.
Is the diversion of Lake Michigan waters Waukesha's only option to secure "a safe and sustainable source of water for its residents"?
Wisconsin's northernmost edge, consisting of the spectacular mainland sea caves at the tip of the Bayfield Peninsula and the matrix of beautiful and historic islands stretching 25 miles into Lake Superior, was forever protected when Congress established the Apostle Islands National Lakeshore in 1970.
Aquatic invasive species (AIS), invaders, exotics—these are the aliens that live among us. For as long as humans have roamed the earth, we have brought other species with us on our travels, both intentionally and unintentionally.
Our culture is obsessed with productivity. How many times have you answered the question "How have you been?" with "Really busy, and you?" And so, we invent tools to help us get things done.
What if there were a way to reduce toxic chemicals in our Great Lakes and inland waters, while reducing greenhouse gasses, and improving air quality? I think there is a way, and I've been working on it for a long time.
One of the greatest challenges we face as a society in the 21st century is resolving the inherent conflict between human activity and environmental sustainability. Nowhere is this challenge greater than in the realm of fresh water.
Benjamin Franklin said, "When the well is dry, we learn the worth of water."
Welcome! This is the first of what will be many pieces on how different people relate to our shared waters.
Wisconsin Academy Administrative Offices and Steenbock Gallery
1922 University Avenue
Madison, Wisconsin 53726
Phone: 608-263-1692
James Watrous Gallery of the Wisconsin Academy of Sciences, Arts & Letters
3rd Floor, Overture Center for the Arts
201 State Street
Madison, WI 53703
Phone: 608-265-2500