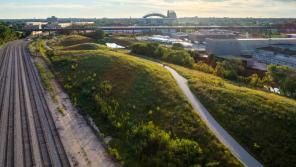 Natural climate solutions are pragmatic options for sequestering greenhouse gases. But where to start?
When we talk about carbon storage, we are talking about carbon dioxide (CO2) that is temporarily not in play in the atmosphere.
Joe Tomandl's farm aims to "let nature provide the energy." Tomandl and his wife operate a grass-based dairy in north-central Wisconsin that has grown from 80 acres with 35 cows to 320 acres of pasture and 170 cows.
CLOSED DUE TO COVID-19
Wisconsin Academy Administrative Offices and Steenbock Gallery
1922 University Avenue
Madison, Wisconsin 53726
Phone: 608.733.6633
CLOSED DUE TO COVID-19
James Watrous Gallery of the Wisconsin Academy of Sciences, Arts & Letters
3rd Floor, Overture Center for the Arts
201 State Street
Madison, WI 53703
Phone: 608.733.6633 x25