One sunny winter day just before Christmas, a visitor arrives at 45th Parallel Distillery in New Richmond, Wisconsin. "I've heard about this place, but I've never been here," he says. "We just moved back from North Dakota to this area, where my wife and I grew up, so I wanted to stop by and see what this place was all about."
Scott Davis, who manages the whiskey aging operations for 45th Parallel, invites the visitor on an impromptu tour of the 20,000-square-foot facility. Davis was the chef and owner of Toast Wine Bar in Minneapolis before joining forces with friend Paul Werni, the founder and owner of 45th Parallel, to establish one of the largest and most highly regarded craft distilleries in the Midwest.
The stars of the distillery are the first stop on the tour: three gleaming Carl copper stills, manufactured in Germany, that work seven days a week to distill 45th Parallel's handmade craft spirits. Davis and the visitor pause at the hoppers where grains are stored to be milled or ground. 45th Parallel's head distiller Bob McKenzie, a native of Scotland with a Master's degree from Heriot-Watt University in Edinburgh (a school well known for its distilling and brewing programs), checks the controls on a mashing kettle, where milled grain is cooked with hot water to convert starch to sugar.
Walking past the fermenter, Davis points out for the visitor how a combination of grain, yeast, and sugar under heat results in energy, carbon dioxide, and ethanol—the foundation for all alcoholic spirits. Davis and the visitor continue past a massive, hand-wrought wooden tasting bar that overlooks an enclosed clean room and the distillery's semi-automated bottling operation, lingering for a moment to watch a couple of employees direct the filling, labeling, and sealing of bottles. 
Davis leads the visitor across an outdoor walkway to the 5,000- square-foot rickhouse, an unheated warehouse where spirits are stored while they age. Stacked floor-to-ceiling, the whiskey barrels are made from various woods selected for the flavors they impart during the aging process. The rich scent of wood and whiskey hangs in the rickhouse air.
The impromptu tour concludes when Davis deposits the visitor in the lobby near a small tasting bar, where the visitor purchases a bottle of New Richmond Rye for himself and a gift of 1570 Madison Avenue Orangecello liqueur for his wife. "This place is awesome," the visitor says. "We'll be back for the full tour." 
Spirited Inspiration
One hundred years after the Volstead Act—better known as Prohibition—was enacted (it was repealed in 1933), distilleries are springing up across the state. While breweries and wineries are hot destinations for out-of-state tourists and locals alike, craft distilleries have been slow to emerge due to the complex interplay of federal, state, and local regulations and a tangle of laws regarding production volume, intra- and interstate sales, and on-site consumption. In 2005, the nation had just fifty distilleries, and most were long-established national brands. Today there are about two thousand distilleries, with 35 located in Wisconsin.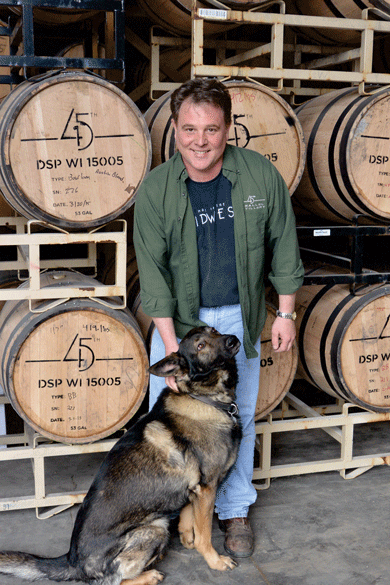 But in Wisconsin many of these distilleries wouldn't have been established without a handful of people brave enough to navigate the uncharted regulatory waters and create destination-based distilleries dedicated to enhancing the fabric of their communities. Paul Werni is one of these people. Werni grew up in Merrill in northcentral Wisconsin. As a teenager he often saw the 45th parallel geographic sign on the highway between Merrill and Wausau and thought it would make a good business name. While studying history at the University of Minnesota in the 1990s, Werni became intrigued by the history of distilling and wanted to learn more about the current state of the industry. He discovered that there were virtually no craft distilleries in the Midwest, where varieties of grains are plentiful and readily available. 
Werni set out to learn all he could about crafting spirits and found two generous individuals to guide him through both the regulatory and distilling processes. Charles McGonegal of AeppelTreow Winery & Distillery in Burlington was the first person in the state to hold a distiller's permit. McGonegal helped Werni make sense of the confusing mishmash of regulations. Michigan State University chemical engineer and food scientist Kris Berglund, heralded as a driving force behind the U.S. craft distilling movement, provided Werni with advice about the science behind creating ethanol from different kinds of grains as well as how to scale operations. Perhaps most important, Werni notes, is that both provided encouragement to the young entrepreneur. 
In 2006, Werni broke ground on his distillery, making 45th Parallel Spirits the third business in recent Wisconsin history with a permit to distill.
A Commitment to Craft
Werni knew from the start that he wanted to craft an artisan product by creating ethanol from locally sourced grains, rather than purchasing neutral grain spirits or bulk ethanol made from a variety of grains and sold by large distilleries. When distilleries use neutral grain spirits, they typically rely on finishing processes like distilling, filtering, and infusing to create tastes and differentiate their brands.
"When I started, just a handful of the distilleries in the country actually had their own fermenting tanks and mashed local grain," says Werni. "That's the type of product I wanted to create."
Today 45th Parallel remains committed to a slow craft philosophy known as grain to glass. The grain-to-glass idea is akin to the notion of farm to plate, whereby consumers want to know what they are eating, where the ingredients come from, and how the product is made. Local grains, flavors, and ingredients are used as much as possible. In many ways it's an old-fashioned process.
"We don't do anything fast: slow fermentation, slow infusion, slow distillation, slow blending, and slow aging," says Werni. "The result is a definite difference in taste."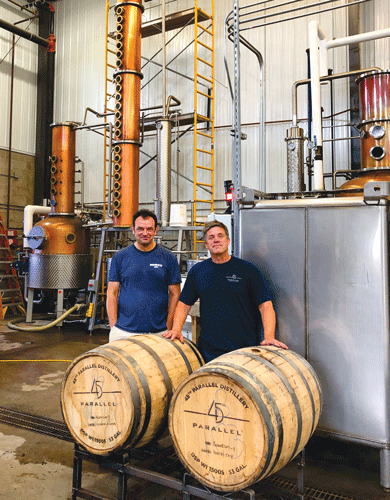 Werni gets his grain from nearby Rusmar Farm (eight miles away) and mills it right at the distillery. The milled grains are then combined with hot water to create the mash, which is cooked or fermented in order convert the starch into sugar. What results is essentially a beer-type brew. The huge copper stills do the magic, separating the ethanol and water from the fermented brew. After the water is removed from the leftover mash, the resulting silage is shipped to another local farm, where it is used as feed for livestock. The livestock, naturally, provide the fertilizers for next year's crop after eating the silage, thus completing the cycle. 
In starting up the distillery, Werni recognized that time—up to eight years for some barrel-aged whiskeys—would be needed to enter the aged spirits market. So, to get his operation up and running he created 45th Parallel Vodka, a clear spirit made from corn that needs no aging. 
Soon the distillery gained international notice when it received a coveted five-star rating from renowned spirit advisor R. Paul Pacult for its 45th Parallel Vodka. Pacult gushed in the March 2009 issue of Spirit Journal, an industry publication, that it was "the best unflavored vodka I've tasted in the last two to three years, bar none. Superb distilling. A must buy for all vodka lovers." In 2014, 45th Parallel Vodka won Double Gold, the highest honor, from the World Spirit Competition. 
Waiting for the aged whiskeys presented a challenge. "We are lucky that there is a renaissance of interest in hand-crafted, and especially, aged spirits," says Werni. "But aged spirits like whiskey take time; they can't be rushed." 
While waiting for the spirits to mature, 45th Parallel was asked to create a vodka, and the company agreed. It was an ideal, additional revenue stream. Their first distilling contract was for Referent, a grain-to-glass vodka infused with horseradish, used exclusively at the Saint Paul restaurant Moscow on the Hill. Soon, another contract arrived from a customer who wanted to age whiskey on his own farm in Wisconsin. These ventures paid off while 45th Parallel waited for its own brands to age. Even today, 45% of their revenue comes from contract small-batch distilling.
"We are getting known for our ability to make a great craft whiskey," says Werni. 
The first batches of 45th Parallel's aged spirits arrived in 2012 with Border Bourbon, which was followed by New Richmond Rye in 2013 and W, a Wisconsin wheat-based whiskey, in 2017. Their flagship aged spirit, Border Bourbon, made the Top 100 Spirits of 2018 in Wine Enthusiast. The company will release a grain-to-glass Irish whiskey in a few years, and is continually fielding contract inquiries for scratch spirits from unusual ingredients such as ancient grains and hemp. 
Last fall, 45th Parallel began to process Wisconsin apples for an orchard owner who came up with an idea to use a traditional French press method to make hard cider and brandy. Another contracted product that is popular (especially in Minnesota) is a Scandinavian spirit called aquavit, which is instilled with flavors such as caraway, dill, mint, and allspice. Other 45th products include a few made from neutral grain spirits, including 1570 Madison Avenue Limoncello and Orangecello, flavored liqueurs that incorporate organic citrus from California and Florida, and Midwest Vodka and Gin, a mid-shelf line.
A Bright Future
Werni says that hard work and dedication—and his skipping a salary for the first two years of operation—have helped to position the company with a solid future. 
Currently 45th Parallel employs fourteen people who work in manufacturing, sales, tours, and order fulfillment. Werni's daughter, Josie, a recent journalism graduate who works in marketing, just joined the team, and his son, Anton, will join the company after graduating from college with a business degree. 
In 2019, the distillery will begin a 12,000-square-foot expansion to its 20,000-square-foot facility in New Richmond. The expansion will double still capacity (from three to six), add more fermenting equipment and rickhouse space, increase the automated bottling capacity, and include a new events center with a full kitchen for an expanded tasting and tour experience. 
Like those who offered advice and encouragement to Werni early in his career, he often shares his industry knowledge by consulting for other distilleries and teaching a distilling workshop twice a year.  Sharing his start-up story at a 2010 distilling forum in Minnesota, Werni inspired dozens of entrepreneurs while encouraging legislation to reduce Minnesota's permit fees from $30,000 to just $2,000.
In May 2019, Werni will open a two-still satellite distillery in Stillwater, Minnesota, a historic river town just across the Wisconsin border. Visitors to the satellite distillery can view distilling and finishing processes, while the entire manufacturing process will continue operations in New Richmond. 
He hopes the satellite distillery in Stillwater will be as popular as the one in New Richmond, which CNN Travel named one of its 2013 top ten global destinations for discerning drinkers. While Werni appreciates the media coverage and visitors from around the globe, he says that most of 45th Parallel's customers come from Wisconsin and Minnesota. "They hear about us, come for a tour, and become loyal customers. People want a handcrafted product—something different and with a good story."