Wisconsin People & Ideas - Fall 2011
One Wisconsin nurse will never forget a patient she treated several years ago. When the patient woke up from surgery for a hysterectomy, she asked the nurse when she could start trying to get pregnant.


At first glance they seem like grand, elaborately crafted birdhouses. On approach you realize this small structure is mounted far too low for birds.

Why are you a member of the Wisconsin Academy?

After ten years, what still draws people to the Wisconsin Book Festival?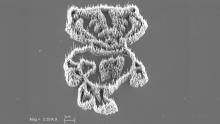 Nano. The word rolls off the tongue as if it could be a name for a garage band or a cartoon character.
They had never met, these two grande dames of Wisconsin art.

Annie Randall may say her golden retriever Nellie is the main reason people keep coming to her Village Booksmith store in downtown Baraboo, but more likely it's cozy atmosphere and diverse collection of used books.

Larry Watson was born in 1947 in Rugby, North Dakota, and grew up in Bismarck.

The answer, my friend, may not be blowing in the wind this fall—but books and poetry sure are.

Cowfeather Press's mission is to bring the work of Wisconsin poets and poetry into the light, by publishing books written by deserving Wisconsin authors, by building audience for poetry across the state, a

Why should you join us in celebrating the election of seven new Wisconsin Academy Fellows this November 6?

A lot of folks have asked me what the wheel spoke-like emblem on our Wisconsin Academy logo and Wisconsin People & Ideas masthead represents.

The summer Pastor Frank Mueller lost his mind, it rained so hard and so quickly in the town of Ryeford, Illinois that the waters of the marsh spilled into our basements and flooded Gary Avenue from North High all the way to the tracks.

As I read Valerie Laken's latest book of short stories, Separate Kingdoms, the opening lines of Robert Frost's "Mending Wall" popped into my head:

Two books recently published by the Museum of Wisconsin Art in West Bend celebrate the artistic lives—as well as the married life—of two beloved Milwaukee artists: Schomer Lichtner and Ruth Grotenrath.
Wisconsin Academy Administrative Offices and Steenbock Gallery
1922 University Avenue
Madison, Wisconsin 53726
Phone: 608.733.6633
James Watrous Gallery of the Wisconsin Academy of Sciences, Arts & Letters
3rd Floor, Overture Center for the Arts
201 State Street
Madison, WI 53703
Phone: 608.733.6633 x25