Wisconsin People & Ideas - Spring 2011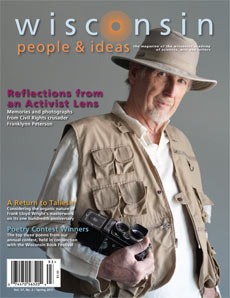 Some might call it dumb luck; others, impressive prescience.

Spring is in the air and the election season is upon us here in Wisconsin. Across the state, citizens turn out in droves to fulfill what is known as perhaps the most important of our civic obligations.

An interview with Wisconsin Academy Fellow and long-time arts educator Barbara Brown Lee reveals a life lived in art.




Dean Bakopoulos was born and raised in metro Detroit, which is the setting of his first novel, Please Don't Come Back from the Moon (2008), a New York Times Notable Book.
Bruce Dethlefsen, a retired educator and public library director living in Westfield, began his two-year term as Wisconsin Poet Laureate at the beginning of 2011.

HE HAD TO BEND A LITTLE TO SEE WHAT SHE'D SEEN.
Wisconsin Academy Administrative Offices and Steenbock Gallery
1922 University Avenue
Madison, Wisconsin 53726
Phone: 608-263-1692
James Watrous Gallery of the Wisconsin Academy of Sciences, Arts & Letters
3rd Floor, Overture Center for the Arts
201 State Street
Madison, WI 53703
Phone: 608-265-2500