Wisconsin People & Ideas - Winter 2011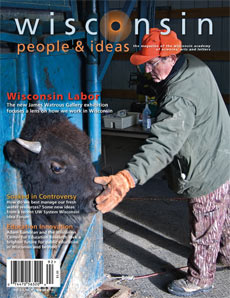 Located on Main Street in Waupaca, Dragonwings is a large and lively bookstore with a focus on science fiction and fantasy for children.


With the end of 2010 came the closing of a venerable artist residency and community center pivotal to artistic and cultural life Wisconsin.



Even before the creation of the U.S. Environmental Protection Agency (EPA) in 1970 or the subsequent Clean Water Act, scientists in Green Bay knew an ecological and human health crisis was unfolding.


Marshall Cook has taught at UW-Madison for thirty years, where he also edits Extra Innings, an online newsletter for writers. Cook has authored thirty books and hundreds of magazine articles.


They are long forgotten by anyone living. I remember, we say. But we are so often wrong. We know something from the archive of photographs and script and type.
Wisconsin Academy Offices 
1922 University Avenue
Madison, Wisconsin 53726
Phone: 608.733.6633
James Watrous Gallery of the Wisconsin Academy of Sciences, Arts & Letters
3rd Floor, Overture Center for the Arts
201 State Street
Madison, WI 53703
Phone: 608.733.6633 x25