Wisconsin People & Ideas - Summer 2011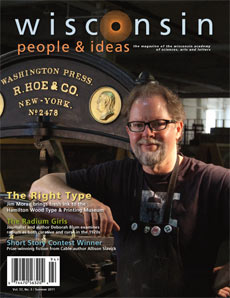 It might surprise some of the readers of this magazine to learn that I have spent the night in jail. No, this wasn't a field trip to look for ghosts on Alcatraz Island.

If you've visited our state capitol in the past few weeks, you may have spotted a fleet of shiny red bikes with silver baskets zipping up and

When a customized container management company specializing in packaging two of Wisconsin's most famous products—cheese and beer—wanted to gauge the performance of one of its best-selling containers, it asked a neighbor for help.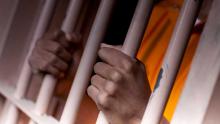 We are in the middle of a crisis. Yet, many of us don't even know it," says Wisconsin Academy Fellow and criminal justice reform advocate Sister Esther Heffernan.
If you stroll down Jefferson Street in Two Rivers, Wisconsin, you might pass by the Hamilton Wood Type & Printing Museum without even noticing it.

Jim Fleming began his career with Wisconsin Public Radio in 1968 as a volunteer while completing his undergraduate English degree at UW-Madison.

Living in these turbulent times, many of us seek a space where civil discussion is the status quo, a place where substantive ideas—rather than personality or political spin—are the norm rather than exception.
No one expected the water to be warm enough to swim in, and they hadn't brought suits or towels. She'd not been in a pool for years, not once since Ben died, and even longer since she'd gone swimming in a lake.

Since the beginning of time it seems poets have been preoccupied with birds. Wordsworth's cuckoo and Keats' nightingale come immediately to mind. As does Wallace Stevens' blackbird (and the thirteen ways of looking at it).
Wisconsin Academy Offices 
1922 University Avenue
Madison, Wisconsin 53726
Phone: 608.733.6633
James Watrous Gallery 
3rd Floor, Overture Center for the Arts
201 State Street
Madison, WI 53703
Phone: 608.733.6633 x25