Wisconsin People & Ideas – Summer 2019
In this issue: Coming soon...
It seems these days that discussions of metrics and measuring success are humming around me like the mosquitoes in my garden.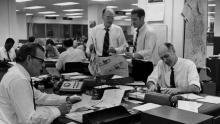 The day after I retired, the dominant source of news about Milwaukee and greater Wisconsin vanished.
Schmidt Maple Woods were formative to the life and career of the youngest member of the family, Franklin Schmidt, who grew up to become a pioneer in the field of game management.
Whether she's working in textile, collage, or photography, Sharon Kerry-Harlan makes art that buzzes with life and energy.
Wisconsin Academy Administrative Offices and Steenbock Gallery
1922 University Avenue
Madison, Wisconsin 53726
Phone: 608-263-1692
James Watrous Gallery of the Wisconsin Academy of Sciences, Arts & Letters
3rd Floor, Overture Center for the Arts
201 State Street
Madison, WI 53703
Phone: 608-265-2500