Read the report or watch the presentation! Wisconsin's forested landscapes are ripe with potential for increasing carbon sequestration and storage...
While climate change is a global issue, ultimately all climate impacts are local.
Indigenous knowledges and perspectives are not commonly recognized in climate adaptation planning focused on natural and cultural resource management.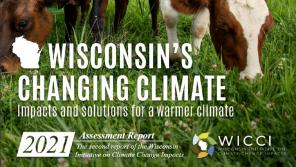 At the "Wisconsin's State of the Climate" talk, five leaders from the Wisconsin Initiative on Climate Change Impacts (WICCI) network provided an overview of WICCI's recently released 2021 assessment report, 
In the third Climate & Energy Series talk, Savanna Institute's Keefe Keeley and Barbara Decré introduced Wisconsin Academy guests to agroforestry, a natural climate solution that has the potential to transform Wisconsin's agricultural landscap
Our second lunch-hour Climate & Energy talk of 2022, "Spurring Action on Climate Change through Artistic Engagement" featured speakers from the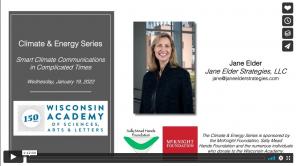 Our first lunch-hour Climate & Energy talk of 2022, "Smart Climate Communications in Complicated Times," featured speaker Jane Elder.
Speakers Diane Mayerfeld and Susanne Wiesner discuss how sustainable agricultural practices can increase carbon drawdown, lead to healthy soils and other ecosystem services/benefits.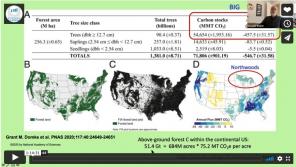 Fred Clark and Don Waller discuss how to leverage nature-based solutions in forests to foster continuous growth for maximum carbon storage and ecological complexity.
Wisconsin Academy Offices 
1922 University Avenue
Madison, Wisconsin 53726
Phone: 608.733.6633
James Watrous Gallery 
3rd Floor, Overture Center for the Arts
201 State Street
Madison, WI 53703
Phone: 608.733.6633 x25